We are the only Beauty Focused Creators, this allowed us to create a roadmap to guide you to where you are now.
No-Tech background, zero software know how or graphic design experience needed.
We can get you to create and launch your first online course!
To expand your beauty profession online.
Don't take our word for it!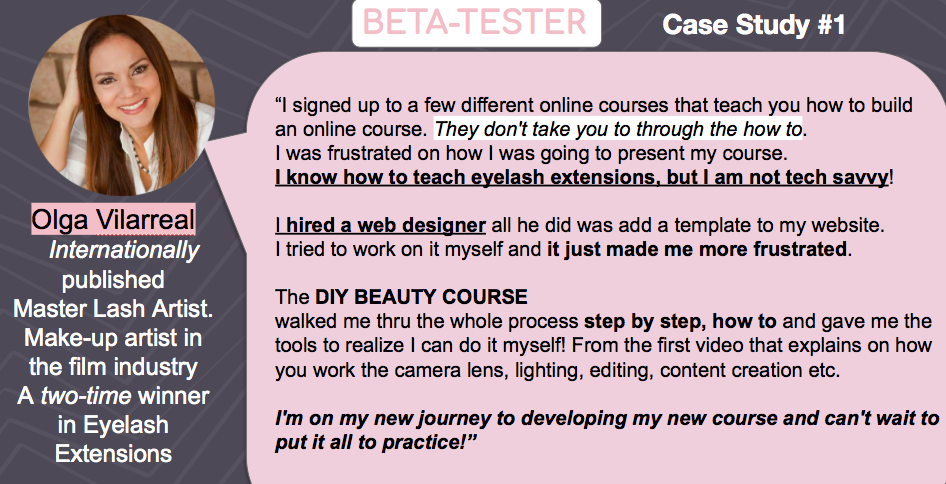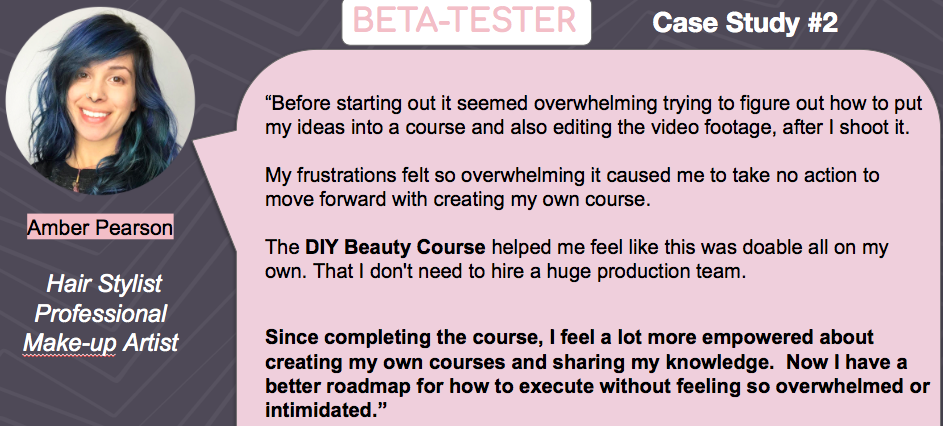 Curriculum included:
Choosing your TOPIC
Creating your course FLOW[Frame Work]
Recording Equipment list
Tools for editing videos and photographs
Account Creation and Course upload
Creating Terms and Condition agreement for course[Legal]
Launching your course
If you are still reading it's probably because you are a bit skeptical right?
I was too! I have been in the beauty industry for over 6 years!!! That's what makes this opportunity so unique!
No other beauty entrepreneur has created this
NEW WAY
All the other course creation advisors don't have a background in beauty!
I understand the hurdles, roadblocks and can guide you from where you are now to where you want to GO!
None of the other DIY gurus can offer that!
As a beauty professional one of the hardest things about this industry, is that you cannot replicate yourself. You can only take on so many clients in a day, right??
So, how do you grow your business? Share your skillset and unique techniques, to reach more people, while behind the chair or in a physical classroom setting?
You can't, it's not expandable with this linear model.
If you were like me, you don't even know where to start to scale your business.
We use social media, and are connected to our smart phones all day. Yet we don't use the tools we have available everyday to exponentially grow our businesses, to reach more people and make money when we are not behind the chair!
Online course's are pacing to become a 250 Billion dollar industry!
So how do you go from linear money to exponential income?
Online Education! Taking your expertise and packaging it into a online course.
I know this can sound intimidating, but you do not need ANY professional background or experience in course creation, videography, video editing, photoshop, instructor background, licensing etc
To create your first COURSE!
ZERO EXPERIENCE & TECHNICAL BACKGROUND NEEDED!! Tech wizard need not apply ;)
We know as beauty entrepreneurs ourselves that we were not taught online business and technology skills in school.
And that is why we created this course, to help YOU share your mastery, trade, skillset, techniques online with others!
This course will teach you the A to Z on Creating and Launching your first online course by YOURSELF.
If you have any questions email us at
TEAM@WEAREBE.CO
Follow our social media profiles
IG: Wearebe.co
FB: We are Beauty Entrepreneurs